Course Text Books
Core Texts (Required)
The following Text Books are required as they form an essential part of the core curriculum:
Sport Nutrition (Asker Jeukendrup PhD and Michael Gleeson PhD. ISBN: 9781492529033. Human KIntics. 2018).
Biochemistry for Sport and Exercise Metabolism (Don Maclaren PhD and James Morton PhD. ISBN 9780470091852. Wiley-Blackwell. 2012).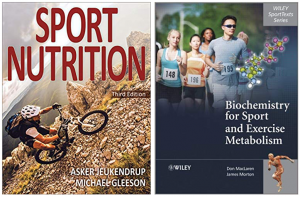 Recommended Texts (Optional)
Depending on your prior education, the following texts may also be recommend to support your studies or even as a pre-course reading requirement (to be determined by the course director in your interview and acceptance offer):
Exercise Physiology: Nutrition, Energy, and Human Performance – William D. McArdle BS M.Ed PhD, Frank I. Katch, Victor L. Katch, (8th International Edition).