IOPN Diploma in Performance Nutrition: Course Overview
The IOPN Diploma in Performance Nutrition is an advanced (level 7) professional training and development program for nutritionists looking to specialise in sport and exercise nutrition. The IOPN Diploma is internationally recognised, and uniquely designed to bridge the gap between science and practice via a competency-based education approach.
The course is available 100% online, utilising the best available learning technologies along with extensive support from the IOPN tutoring team, and specifically focusses on topics relevant to sport and exercise nutrition and its translation and application into effective daily practice. The program goal, therefore, is to develop highly skilled and effective sport and exercise nutritionists who are well equipped with the confidence and competence to work with teams, individual athletes, and recreationally active clients in the "real world".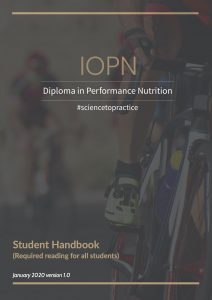 FORMAT
100% online / distance Learning Supported by our team of tutors
COURSE DURATION
8 – 15 months Flexible study format
START DATE
Four cohorts per year (Feb, May, Aug, Nov) Apply now for the next available cohort
Your learning journey
1
Module 1: Sports Nutrition Fundamentals 1
Key topics: Nutrient and recommended intakes, Fuels sources for muscular activity, Nutrition and fatigue, Relative energy deficiency in sport
2
Module 2: Sports Nutrition fundamentals 2
Key topics: Gastric emptying, digestion and absorption, Carbohydrates, Protein and amino acids, Lipids
3
Module 3: Sports Nutrition fundamentals 3
Key topics: Metabolic regulation, Fluid balance and water requirements, Vitamins and minerals, Nutrition supplements
4
Module 4: Advanced Sports Nutrition
Key topics: Nutrition and training adaptations, Body weight regulation, Nutrition and body composition, Personalised nutrition
5
Module 5: Advanced Sports Nutrition: Science to Practice
Key topics: Scope of practice, Nutrition for high-performance athletes, Nutrition in endurance sports, Nutrition in high-intensity intermittent sports, Nutrition for injury and rehabilitation, Reflective practice