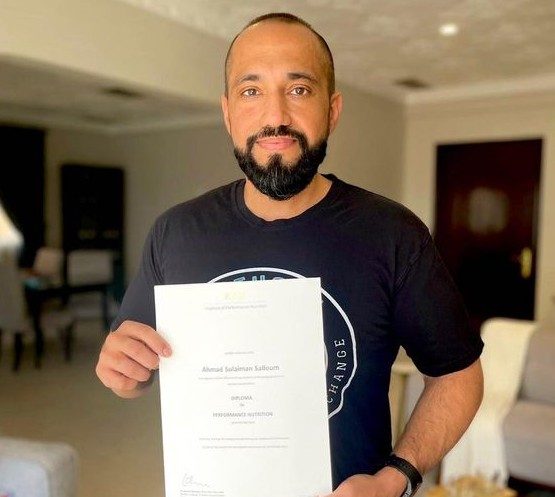 Student success story: Ahmad Salloum
Student success story: Ahmad Salloum
Job: Performance Nutritionist and Personal Trainer
Ahmad's story
Ahmad developed a passion for nutrition during his incredible weight loss journey that saw him lose 40kg in weight. During this period he began to look for an advanced sports nutrition course that would not only help him to maintain a healthy weight but also help his clients to fuel their bodies correctly and maximise the benefits of their training.
Read Ahmad's story below:
What was your motivation for studying an advanced sports nutrition course?
After my own weight loss journey I wanted to help other people to undergo their own weight loss journeys in a healthy and sustainable way. I wanted to be able to give advice that was backed by science and when I came across the IOPN course I felt I would learn that. I saw the phrase 'science to practice' and that really appealed to me.
What nutritional knowledge did you have before you enrolled on our diploma?
I had taken several other professional training courses online. I was a certified health coach and Sports Nutritionist and also already had a Bachelor of Science degree and a master's degree in strategic management. But that still wasn't enough for me, I wanted to do something more advanced which is when I came across the IOPN online. 
Did you enjoy the learning structure of the course?
The structure was excellent, I really enjoyed the variety of teaching methods. There are textbook chapters and quizzes after each chapter that really help you to digest the knowledge. There are also a number of excellent lectures within each module that are delivered by world class experts in their field – it's pretty rare to be able to get access to those types of people. The learning management system was also excellent – I was able to watch videos on my mobile, tablet and laptop – this makes it a very accessible course – you can study from wherever you are.
There are practical case studies within each module – did these help to boost your practical skills?
I loved them, they were challenging and interesting at the same time. I learned how to work with males and females across lots of different sports. I've mainly worked with bodybuilders and people who want to lose weight so these were very new experiences for me. This is something that really sets this course apart from many others. You can do a basic nutrition course online but it won't give you the depth of learning and practical skills you need to start working with clients.
What was your most valuable learning from the course?
I learned so much more about the biochemistry of the body. This makes you understand how to effectively make a macronutrient plan for a specific individual, for example a gym client, but also a professional athlete. I hadn't previously worked with athletes so having the knowledge to work with professionals could create new opportunities for me.