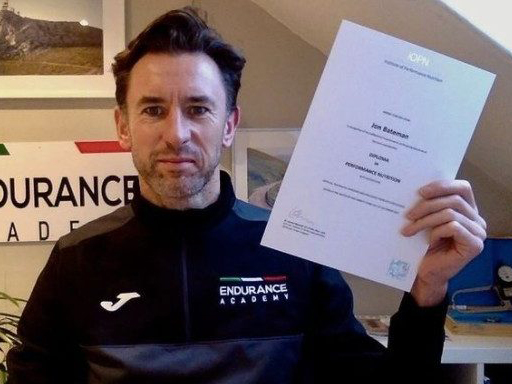 Student success story: Jon Bateman
Name: Jon Bateman
Job: Endurance Academy: One-to-one endurance and performance nutrition coaching
Enrolled: 2020
Graduated: 2021
Jon's story
When Jon Bateman enrolled on the IOPN Diploma in Performance Nutrition, he did so after a 12-month search for a course that would give him the knowledge and practical experience to offer sports nutrition advice to his endurance athletes. After graduating in 2022, he's now fully booked with clients – read about his IOPN journey below..
What were you doing before you enrolled on the IOPN Diploma in Performance Nutrition?
I'd just finished my Master's at Northumbria University and initially my aim was to do a PhD but I realised I didn't want to go into academia. I'd been a coach at British Cycling and my background was very much coaching. Increasingly, the athletes I was working with were asking me for nutrition advice and I didn't have enough knowledge, so I decided to research performance nutrition courses.
Why did you choose the IOPN diploma over other courses?
Initially I looked at the IOC diploma but when I found the IOPN course I just felt it had way more depth – it just felt like a much better course. I also knew of Laurent (IOPN founder) and I also wanted to do a course that was accredited and would enable me to become SENr registered. That was a big thing for me. I felt it would give me a real tangible benefit for my business in terms of being able to offer expert nutrition advice.
What were the most challenging aspects of the course?
I found it hard to get the first assignment out of the way with. There was quite a bit of anxiety about opening up that first exam, I didn't know what it was going to look like. I spent the first month just getting myself prepared for the first assignment, but once I got that out of the way I could see a timeline. 
I've been self employed and worked for governing bodies and teams and you have to manage your own time so I'm fairly good at putting a timeline down. There were times I didn't touch the course for 2-3 months, I'd get ahead and then come back to it later. I always had 4-5 months per module, which I managed quite well. It looks like more work that it is and I was able to add my new knowledge to my coaching as I was going along.
How did you find the practical assignments and case studies? 
They were great, I really enjoyed visiting a team or working with an athlete and putting the theory into practice. For me, I need to be able to contextualise everything that I'm learning and everything in the modules I was using in the case studies. I still use the case studies with the athletes I work with now and I go back to them because they're so relatable to athletes. The course is so applied that when you finish you're ready to work with clients. I actually felt that half way through the course that I was ready to set up a nutrition practice because of the experience from case studies.

Did you lean on your one-on-one tutor for support?
Yeah, initially I had Jasmine and we had a good rapport over email and then I also worked with Luke – he was excellent at turning around marking within a couple of days. 
Now you've graduated, has the diploma changed your career and the way you work?
Absolutely. At the start I needed my hand held but now I don't, I have my own way of working and the confidence to work with any client across different sports. Every athlete has different needs but I have a set structure I'll work through and if I'm a bit challenged, I know where to go to get the info. 
Have you continued to use our SENPRO nutrition software with clients?
Before I graduated I was using a nutrition software program called Nutritics with clients. But I was frustrated with how the app tries to bend you towards their style of working with clients. But with The IOPN, it goes so deep into biochemistry that you have a very clear view of how you want to work with clients and SENPRO is perfect for that. There are no fads, it's all based on the science we've learnt. SENPRO is a lot more individualised – it's more specific to working with different types of athletes who require different nutritional needs. 
Do you feel the diploma will help to boost your business?
It already has. For the past two months I've reached my limit in terms of the number of clients I can work with – I can't take anymore people on. It gives you more confidence to post on social media about your expertise and what you've learnt and that has helped to bring in extra clients. I couldn't be happier.