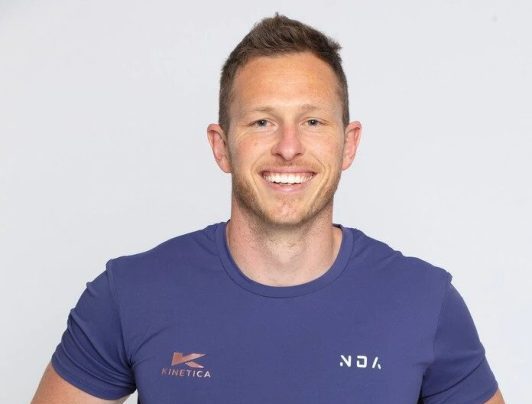 Student success story: Sean Prunty
Name: Sean Prunty
Job: Business Development Manager & Performance Nutritionist (Kinetica Sports)
Enrolled: 2019
Graduated: 2021
Sean's story
Sean Prunty was a professional footballer before a heart problem forced him to retire from the game aged 28. After weighing up his future, he decided to embark on a new career in sports nutrition, working for sports nutrition brand Kinetica Sports. Prunty enrolled on our diploma to boost his confidence and ability to advise teams and athletes on how to fuel for high performance. Read about his IOPN journey below..
Why did you decide to enrol on the course?
I was working for a sports nutrition brand (Kinetica Sports) and wanted a qualification that would make me stand out. I didn't want to do a short course, I wanted something thorough.
I knew that when I finished the course I'd be confident advising teams and athletes on supplementation or doing an education piece working with athletes myself across multiple sports. 
Did you face any challenges before enrolling?
I was a bit worried before I enrolled on the course because I had two young kids and one on the way and was concerned about time constraints. However, I spoke to the course leader, Laurent, who reassured me I'd be supported throughout by a tutor which reassured me.
How did you juggle family life and your job with the course?
It was hard! I work away in the Middle East quite a bit so I took my books with me, I was studying on planes, in my hotel etc, but I had a natural love for each module so it didn't feel like a burden, I loved learning something new every time I studied.
How did your tutor help you on your learning journey?
My tutor was Dr Stephen Smith and initially it was a bit daunting because I felt I was asking really simple questions, but he was always excellent with me. He always got back to me quickly and his answers were always in depth. Having his moral and intellectual support was really reassuring.
How did you find the practical assignments?
Every practical assignment was different and really challenging. My favourite was an assignment on an Ironman in Barcelona. You had to get down to the nitty gritty of someone travelling from the UK, staying in a hotel, the temperature was going to be different. I was actually on TripAdvisor looking at hotels and actual reviews from previous Ironman participants who had stayed in certain places! That's the level of detail I went into. 
I also loved the assignments on nutrition for football and injury. Since I've graduated I've been able to go out and speak to football teams and football players about how they should fuel correctly for football matches, in terms of food, hydration etc. I spoke to a team recently about the impact on their performance if they have a low carb diet v a high carb diet and showed them the research. I feel confident working with footballers and athletes in many sports now.
Would you recommend this course to other students?
I have to say looking back now, it was one of the best decisions I ever made in my career. In terms of enhancing my knowledge of sports nutrition, it opens up so many doors, but it's also given me the confidence to speak to individuals with authority based on science and research. To be able to say I'm a qualified Performance Nutritionist is absolutely brilliant.