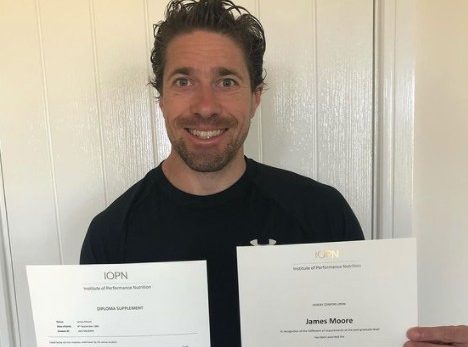 Student success story: James Moore
Name: James Moore
Enrolled: 2018
Graduated: 2020
Job: Course Lead, Sport & Exercise Science, Sandwell College & Performance Nutritionist
James's story
James Moore started his career as a personal trainer before moving into strength and conditioning. Prior to enrolling on our diploma, he had a Level Three nutrition qualification under his belt, but wanted to do a course that would enable him to work with elite athletes. Since graduating, he's helped teenage taekwondo star Taylor Smith to win a gold medal at the European Games and is also working with several professional footballers. Read about his IOPN journey below..
What were you doing before you enrolled on the course?
I was working in a gym in Birmingham. Previously, I'd done an MsC in sports studies and an MsC in strength conditioning. I did a few bolt-on courses and a level three in nutrition and health screening, but I wanted to progress further and do a more credible course that was higher than a level three and that's when I came across the Diploma in Performance Nutrition.
Why did you choose the IOPN Diploma over other courses?
I knew about Laurent's work (course founder) in sport and after comparing the diploma to other courses, I felt this was more evidence-informed and evidenced- based. The standard of the lecturers and tutors was also way beyond what other courses could offer.
How did you balance studying and full-time work?
If you want something badly enough you'll find the time to do it. I was doing holidays, evenings, weekends to get it done.While I was studying the course I took on a role at a college where I run the sport and exercise science pathway. The work I'd done on the course up until that point really helped me to get that job in terms of showcasing my understanding of sports nutrition.
Who was your tutor and how did they help you on your learning journey?
I had Alex Ritson, who is a guru in himself, if there's something that you don't know that guy definitely knows it. And if he doesn't, he goes and finds out in detail. Our relationship was really good, we both have a growth mindset, we're open-minded and positive and passionate about sports nutrition. Working with him was extremely beneficial to me, but also he's a very hard task masker and he marks the work in fine detail.
Did you enjoy the practice-focused assignments?
I loved them. I'm more of an applied type person anyway. I enjoy taking the theory and putting it into practice. I've done that with a number of the athletes that I actually work with. I've currently got a taekwondo athlete on my books at the moment who won gold at the Europeans last month.
She's now preparing to move up a weight class and compete at the Commonwealth Games. She's just turned 18 and she's a woman now. We're having to consider nutrition in relation to her menstrual cycle and things like that. I wouldn't have been able to work with an athlete like her had I not done the course – the assignments really prepared me for this.
What are your goals for the future?
I'm keen to work with footballers and athletes across a host of sports, boxing, MMA, etc. I've also just been accepted onto a PhD at Worcester University, looking at the intake of carbohydrates in different football positions, with specific focus on goalkeepers and female athletes. I've been listening to the IOPN's We Do Science podcast to prepare for that. I graduated three years ago and still use IOPN resources today.