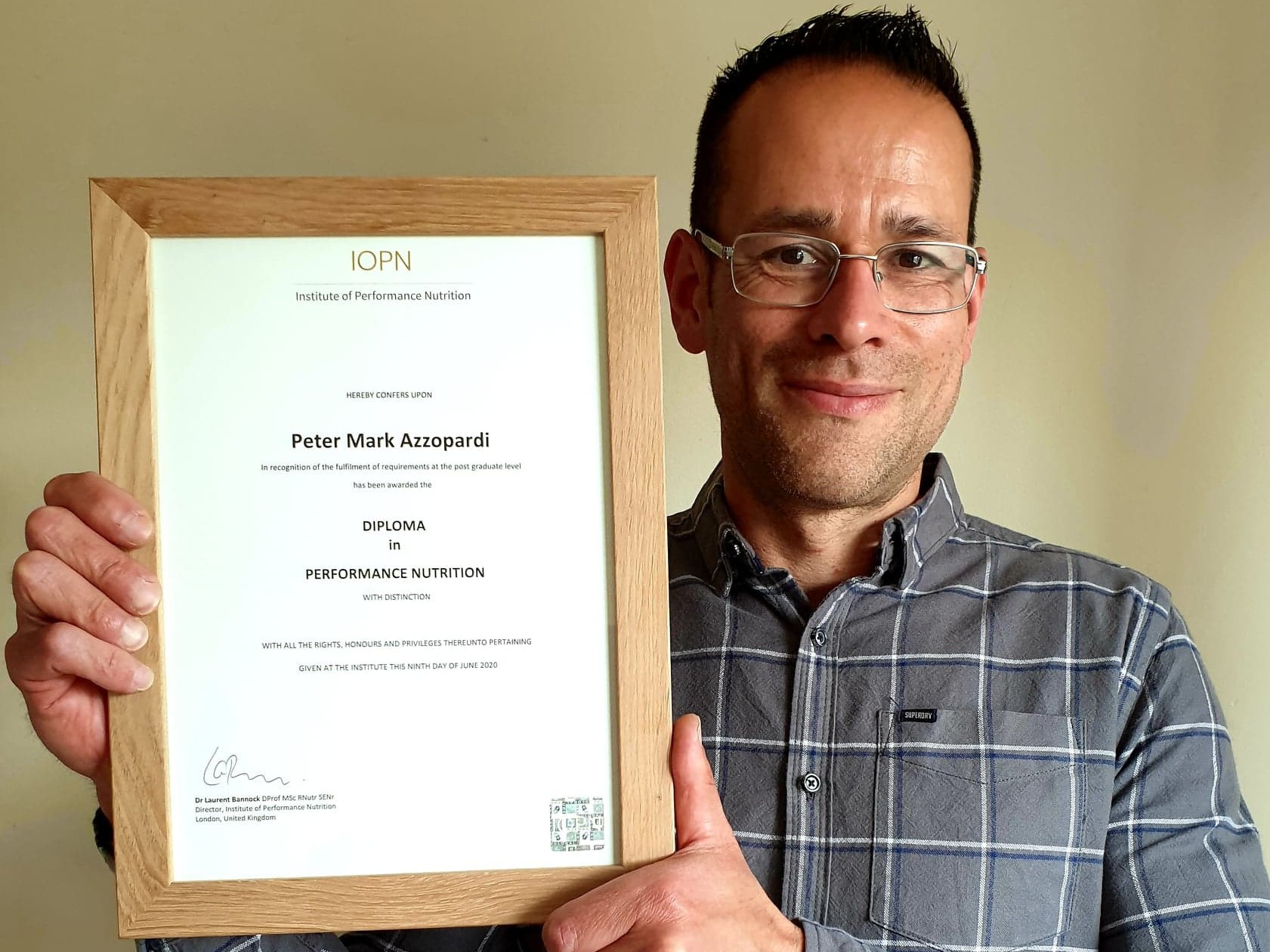 Student success story: Peter Azzopardi
Name: Peter Azzopardi
Job: Personal Trainer
Peter's story
Peter enrolled on our diploma in 2019 after a long search for an evidence-based course that would give him the confidence and skills to change the nutrition habits of his clients and enable him to work with athletes. Since graduating in 2020 he's gone on to gain a master's degree, secure SENr registration and is now in the process of applying for roles in elite sport. Read his full story below…
What was your motivation for enrolling on the course back in 2019?
I had a number of criteria that I wanted from a nutrition course – I wanted it to be evidence-based, accredited by leading organisations and bodies and it needed to be at a level that would really push me. There are lots of courses out there that are four weeks or six weeks or offer basic nutrition education but I wanted something more. The depth of the course content and the quality of the tutors and lecturers really stood out to me.
You didn't have a degree when you enrolled – did you find course content challenging?
I did. I had imposter syndrome for a little while and wasn't sure I was going to pass the course. But I found the structure of the course really enjoyable and that aided my learning process. Once I passed the first module, that gave me a lot of confidence and I went from strength to strength.
How did you find the practical elements of the course?
I loved the case studies. As a Personal Trainer I'm very much from a practical background so I knew that's where I'd excel. Although I haven't yet worked in elite sport, the case studies have given me a dress rehearsal. For one of the case studies we had to manage a nutrition budget for an elite sports team – I think that will be really transferrable and valuable for me moving forward.
You went on to study a master's degree after graduating – did the diploma prepare you for that?
Absolutely. I wouldn't have been able to do a master's without this course. I'd actually go as far as saying that the diploma gave me far more practical, sport-specific education than the master's, which involves much more research-based work that prepares you for jobs in laboratories.
Has the diploma improved your ability to get the best out of your clients?
Definitely. I'm now able to give evidenced-based advice for clients who are running 10k races or marathons or undergoing weight loss transformations.  I'd also feel comfortable working with athletes in specific sports as well because the diploma gave me that broad sporting education. I've applied for several opportunities in elite sport and that's where I'd like to move into over the next few years.