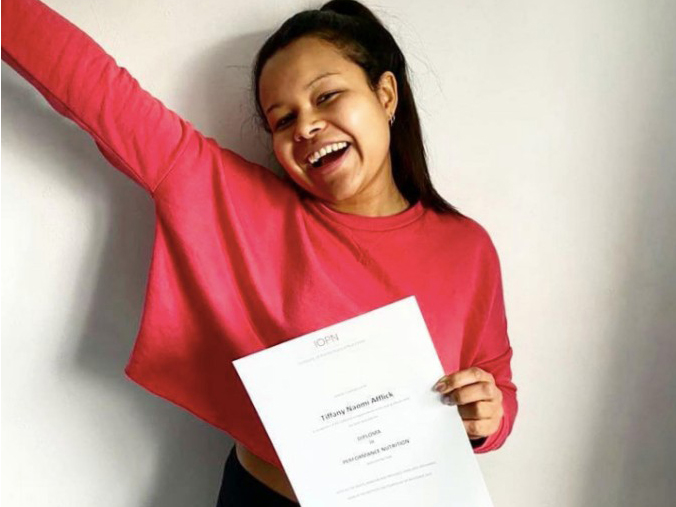 Student success story: Tiffany Afflick
Name: Tiffany Afflick
Job: Performance Nutritionist and Creative Chef at The EDGE Human Performance Lab
Enrolled: 2018
Graduated: 2020
Follow Tiffany on Instagram: @thecookingyam
Tiffany's story
Tiffany was finishing her undergraduate degree at Loughborough University when she decided to enrol on the IOPN Diploma in Performance Nutrition rather than pursue a master's. Within months of graduating, Tiffany landed her first job as a Performance Nutritionist and Creative Chef at The Edge Human Performance Lab. Read about her IOPN journey here..
What were you doing before you enrolled on the IOPN Diploma in Performance Nutrition?
I was a final year Sport and Exercise Science undergraduate student at Loughborough University and I'd just completed a placement with British Swimming.
I reached a point during my placement where I became so passionate about nutrition and realised I wanted to pursue that career avenue. I decided to explore the different paths I could take after finishing my degree to educate myself about performance nutrition at a higher level.
Initially I looked at a few master's courses first but I was shadowing Rich Chesser and asked him what he thought I should do and he suggested that I enrol on the diploma.
Why did you choose The IOPN over other courses?
I'd learnt so much during my placements and realised that I wanted to do a course that provided me with that balance of theory and practical, real world assignments.
I had no interest in pursuing a career in academia so I needed something that gave me the knowledge and practical skills to go and work with athletes and private clients on a one-on-one basis.
The diploma is self paced, which I really liked, and meant that I could balance doing the course alongside my work with clients after I graduated. I also felt the standard of the lecturers on the course was really impressive – that was definitely another big factor in my decision.
How did you combine studying alongside work after you graduated?
When I started the course I was working with quite a few private clients, which meant that it became quite difficult to juggle doing my coursework in time for the deadlines.
That being said, it was never really a problem. It was probably just my own time management getting used to the course to begin with. As time went on, I found it a little bit easier to do just in terms of setting myself personal deadlines. I found doing an hour a day helped me to chip away at it and it gave me enough time to work as well.
What was the most challenging aspect of the course?
Probably working with athletes in different sports. I'd worked extensively with swimmers and I'd also done some work with footballers and track and field athletes.
Learning how to work with someone who was potentially a powerlifter or an athlete in a different sphere to what I'd been used to dealing with before was really beneficial for me.
I know that I wouldn't be able to deal with athletes in those sorts of backgrounds as well as I do now if I hadn't had that practice before in a case study, because you just can't always get that experience at such an early point in your career.
What impact has the IOPN diploma had on your career?
I think it's accelerated my career. I already had lots of practical experience with athletes after university but the diploma really built on that, so I now feel I'm further ahead of where I thought I'd be at this point. If I'd done a master's I think it would've taken me a lot longer to get to this point. 
The diploma really helped me to land my first full time role in September 2020 as a Performance Nutritionist and Creative Chef working for The Edge Human Performance Lab.
I now work across three areas, physiology, nutrition and creative cheffing, so I'm able to use all of the skills I've learnt across my degree and the diploma.