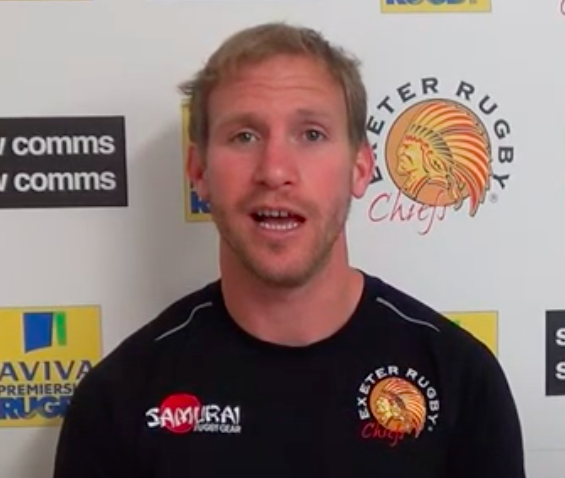 Student success story: Mark Twiggs
Name: Mark Twiggs
Job: Strength & Conditioning Coach & Performance Nutritionist at Exeter Chiefs (rugby union team).
Mark's story
Mark enrolled on the IOPN Diploma along with two other Strength and Conditioning coaches at Exeter and the club's chef after recognising the need for players to have access to world-class nutrition support and daily opportunities to learn how to fuel their bodies correctly. Two years on, the club's pre-season, training and matchdays are all fuelled by the knowledge learnt on our course. 
Read Mark's story below:
Hi Mark, why did you and three other members of Exeter's backroom team enrol on our diploma?
I felt nutrition was an untapped area at the club and the one where we'd be able to gain the biggest improvement in performance. We're incredibly busy and we needed a course that would enable us to fit our studies around training and matchdays. The learning format is digital and very fluid and that meant it was a perfect fit for us.
Was there a big demand from the players for nutrition advice?
Absolutely and we could only offer them basic advice to begin with. What we really wanted was to be able to offer one-to-one support and dig deeper into advanced sports nutrition so we could improve their performance. Every player is different in terms of their weight, height, body composition etc, so we need to be able to give them individual advice. 
What were the common questions from players that you were keen to answer?
Rugby has been a professional sport for over a decade now and over that time period players have been taught that protein is king. Players think of themselves as protein animals and all they want is to have high muscle mass and to be lean so they can ride tackles and be strong in contact – but they're also cardiovascular machines and carbohydrate intake is massively undervalued. Running loads in rugby are higher now than they've ever been and so they need to be better endurance athletes as well as strong. So, how do you strike that balance from a nutrition point of view? That's what we were keen to know.
How quickly were you able to start answering those questions once you started the course?
Almost straight away. The first module is quite in-depth reading into macros, energy systems etc, it gives you the ability to talk to players and answer the questions they have. When you're working with players day to day, it gives you an instant revision tool. Understanding nutrition by reading is one thing, but giving the player the advice verbally is different. Talking the player through what you've learned cements that learning. 
What impact has this nutrition expertise had on the players?
It's had a massive impact. When you're trying to fuel a hard pre-season and you have four or five sessions a day, if you don't have the knowledge about carbohydrate intake then players will be under-fuelled and won't be able to perform to their maximum. During last year's pre-season we used what we'd learned on the course to change how we fuelled between sessions and that made a massive difference in the intensities they were able to perform in the gym and out on the pitch. We were able to run much more intense sessions by getting something as simple as carbohydrate intake correct. We're now planning for our next pre-season and we'll be able to refine our processes using our knowledge from The IOPN.