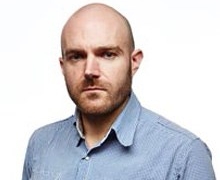 Student success story: Paul Booth
Name: Paul Booth
Enrolled: 2019
Graduated: 2021
Job: Course Leader & sports nutrition consultant
Paul Booth is a Course Leader at Leeds Arts University with a passion for sports nutrition. He joined our course so he could start working with amateur endurance athletes, such as triathletes and marathon runners. Since graduating, he's cut back on his academic work to focus on building his own sports nutrition consultancy working with amateur and elite endurance athletes, including two of the UK's best ultrarunners.
Read Paul's full story..
What was your motivation behind enrolling on our course?
I've always had an interest in sports nutrition and sports coaching but I don't have an academic background in sports science or anything like that. I'm in my 40s now and decided I wanted to take a slightly different path and pursue something that's a real passion of mine.
I'd listened to The IOPN's We Do Science podcast for a long time and that sparked my interest in the course. I did some reading and found the heavy focus on biochemistry at the start was really interesting – that's something I'd overlooked. Within sports nutrition, you just think about the nutrition and you kind of forget about the bodily mechanisms behind it.
Did you look at other courses?
I had a brief look around but it was a pretty easy decision. I didn't want to do a holistic nutrition course. I wanted to do something that would enable me to work with athletes and I didn't think there was anything else out there that was comparable. Since graduating I've actually done a master's in sports nutrition but I found the knowledge base from the diploma was far more in depth. The knowledge base from The IOPN is what I'm still reflecting on. 
How did you find the learning process and course structure?
I've got a PhD in Education Philosophy and Online Learning so I could see how good the quality of the course was in terms of the learning materials and how well structured it was. Not everyone gets the benefit of making that comparison but having worked in academia for so long, I could see how strong and robust the course is.
What did you think of the practical case studies and assignments?
They were excellent. The case studies give you real world knowledge and help you to develop those problem solving skills. It gets you thinking about all those different types of clients you might work with and a lot of the issues that you may face with those clients. You also get a lot of valuable resources, such as templates, to assess and evaluate and resolve those problems.
Which assignment provided your biggest challenge?
There were a few! My area is endurance sports – cycling, running, triathlon – so working on assignments related to football and resistance sports was a new experience for me. On the last assignment I still chose to do an endurance case study – ultrarunning – because it's most relative to what I want to do moving forward. 
Now that you've graduated, what do you want to do next?
I've gone part-time at the university where I work so I can focus on building my own sports nutrition consultancy with endurance athletes. I made that move about a year ago and the diploma has really helped. I can provide athletes with an overall analysis of their current physiological state and also speak to them in language that they understand. You can have all the scientific knowledge in the world but if you start talking in that language your client is going to get lost. You have to be able to articulate it in a really simple way that makes sense. The client assignments have really helped with the detective work of being a sports nutritionist as well, such as taking client notes.